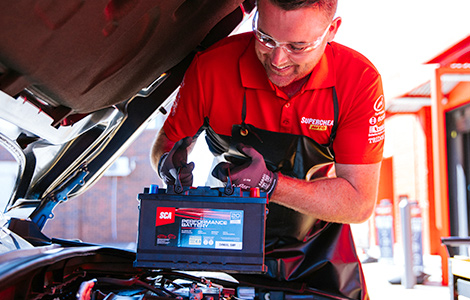 Battery Solutions
We know how important it is to have power when you need it most. Battery related problems can and will happen at the most inconvenient times.
Whether it's the morning commute, heading out on the water or getting away with the family camping it's essential that the batteries powering your life are performing at their best. Here at Supercheap Auto we don't just stock a range of quality batteries and power accessories, we also offer all the Services needed to make your life easier and give you peace of mind next time you turn the key. So before you get stuck head to your local Supercheap Auto store where:
We Test It
We Charge It
We Select It
We Fit It
We Recycle It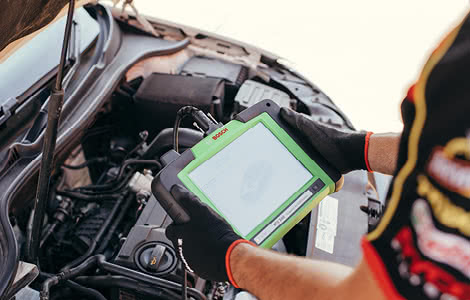 Battery Testing
To get a good indication of the health of your battery, our team provide a test and report for FREE.
This health check with our Industry Standard Tester identifies current power performance against rated performance and determines if you need a new battery or it needs charging and maintenance.
Drop into your local store today and speak with one of our friendly Team Members who can complete this for you in under 10 minutes.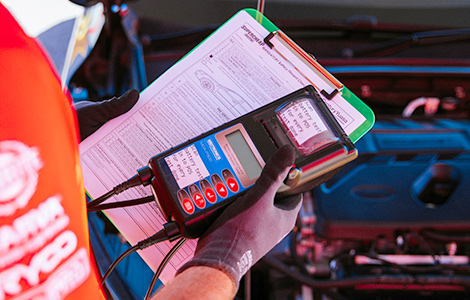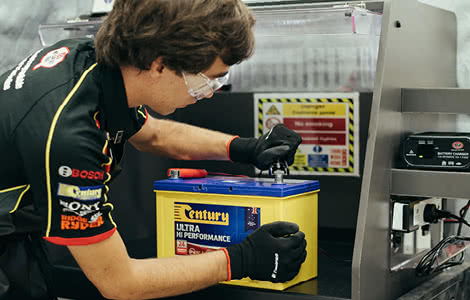 Battery Charging
Simply driving your car around the block a few times is not enough to charge the battery in a modern vehicle.
This is because a car's alternator is not designed to fully restore a depleted battery, but rather to maintain a healthy one.
Correctly charging a battery is the easiest way to help restore battery performance, extend battery life and minimise the chance of a breakdown.
Here at Supercheap Auto our trained team use an Intelligent Charging System using technology that communicates with the battery to ascertain its state of health and level of charge. It then delivers a balanced charging load and optimised charge program for each specific battery.
Whether it's an automotive, marine or deep cycle battery our trained Team are here to help and charge it ready for your next adventure. And best of all, IT'S FREE!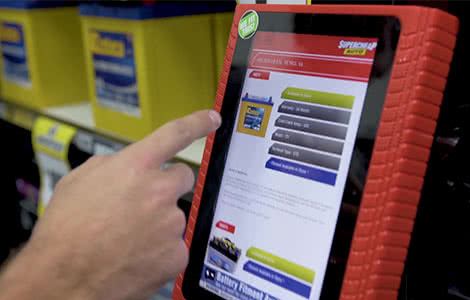 Battery Selection
Batteries come in all different shapes and sizes and it can be quite daunting to know which is the right one for your car, our team are here to help make the selection easier.
Head in to one of our stores we have the tools to advise the best battery option, or shop online by adding your car details and use our click and collect service for a speedy collection and fitment.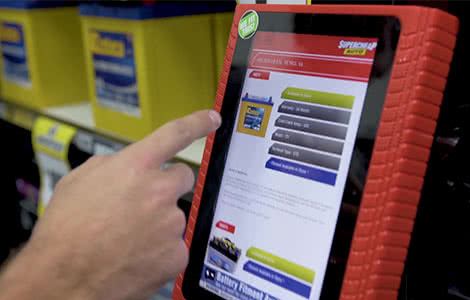 BATTERY FITMENT
*Fitment is not available in all stores and vehicles, please see Terms & Conditions below for more information
Installation performed by a fully qualified team member
Removal and recycling of your old battery
Inspection and cleaning of the battery cable terminal ends and battery tray
Battery cable terminals chemically cleaned
Acid neutralising felt washers installed
Protective sealant grease applied to terminals
Preserved computer memory
Complete starting and charging evaluation
6 months extended warranty on Century branded batteries included
Battery Fitment
Yes, we can fit it for you. The trained team at your local Supercheap Auto store can provide professional installation of your new battery and removal of your old battery.
We also preserve your computer memory of security codes and radio presets.
Car battery replacement doesn't have to be difficult, we can do it for you.
Please note: Fitments may not be available at your local store, please contact your local store or click here to view what is available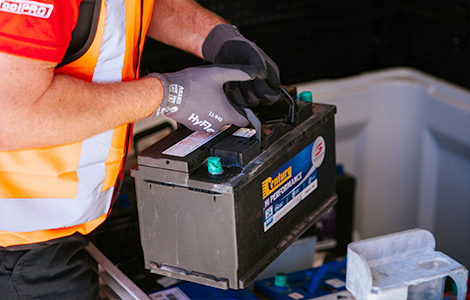 Battery Recycling
Did You Know? 98% of an automotive battery can be recycled!
The components of the battery including plastic, lead and acid are re-processed and manufactured into a range of other products.
To avoid the cost and inconvenience of disposal, at Supercheap Auto, we offer a FREE battery recycling service.Simply take your used battery to any of our stores, and your lead acid battery will be recycled by Century Yuasa free of charge!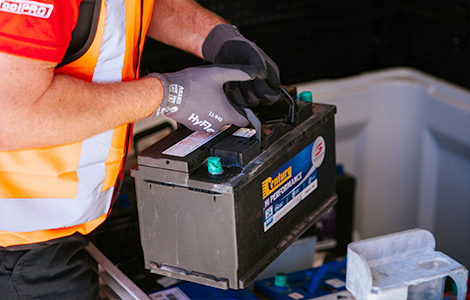 Why is my battery slow to start in cold weather?
Cold weather slows down chemical reactions inside a battery reducing its capacity. This same cold weather causes thicker engine oil, increased draw from the starter motor and higher loads from a vehicle's electrical accessories. This places more than normal power demands on the battery leading to a higher chance of failure.
What Training Has The Team Member Had?
Our team have undertaken professional training through Century Yuasa Batteries which is in line with industry standards. Supercheap Auto complies with all State and Territory legislation with regards to our business operations including our fitment services. Supercheap Auto's battery fitment service is safe, professional and easy.
How long does the installation take and do I have to book it in?
This depends on the vehicle however most Battery fitments take less than 30 minutes. In most instances we can fit your battery on the spot, no problem. However, during busy times such as weekends, a short wait may be necessary.
I Have Heard Replacing a Battery Can Re-Set My Vehicle's Computer, Will This Service Damage My Car?
No, the team at Supercheap Auto use a special 'Memory Minder' which plugs into your vehicle and ensures that your cars computer memory is not lost or reset. So your car will work just fine after we fit your new battery.
Will you fit something that I have bought from another store?
Unfortunately no, we sell a big range at Supercheap Auto that we will fit for you. Talk to one of our team members in store and they will be able to assist in choosing a product that's right for you and your vehicle.
Can You Fit A Battery In My Car?
In the majority of cases, the answer is Yes! We can. However in some cases where the battery requires expert mechanical expertise and equipment like Hybrid vehicles or where the battery is not readily accessible, we may have to refer you to an expert.
Can You Fit Idle Stop Start (ISS) Batteries?
Unfortunately we are unable to replace these types of batteries at this time.
How long does it take to charge a battery?
Charge time depends on the size and state of charge of your battery. As a general guide expect between 3hrs to 12hrs for a full charge.
Can you charge the battery in the car or do you have to take it out?
Best practice to charge a battery is out of the vehicle as the charging process may interfere with the vehicles electronics and it can take up to 12 hours.
Can I re-use my old battery for anything?
No. Minimise the risk to you and your family from toxins contained in automotive batteries like acid, lead and lead compounds, and recycle your battery correctly.
Can I put my old battery in my recycling bin at home?
No. Lead acid batteries should not be placed in home recycling or waste bins. The lead and acid may contaminate other recycled materials which in turn can make them un-useable.