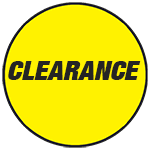 ToolPRO
ToolPRO Digital Inverter Generator Open Frame 1100W
Details
https://www.supercheapauto.co.nz/p/toolpro-toolpro-digital-inverter-generator-open-frame-1100w/553023.html
---
Additional Information
Full Product Info
If you need a reliable source of power in a tough package, then you'd be hard-pressed to find a generator that can stand up to The ToolPRO range of open-frame digital inverters. As the baby of the bunch, the 1100 watt model is compact and easy to haul around - making this generator great for camping and for use in remote locations. It has a generous 3.5 litre, easy-access fuel tank feeding its 53.5cc four-stroke petrol engine, and it runs at a 65 decibels at a 7 metre distance.
Despite its small size though, the 1100 watt rating means that this generator puts out more than enough power to run your personal appliances, lighting and smaller power tools. The entire ToolPRO range of generators use pure sine-wave technology, meaning that the power output on this generator is safe to use with your sensitive electronics, such as laptops cameras and phones. Plugging in your electronic devices is simple since the ToolPRO eleven hundred watt generator comes equipped with a single 240 volt AC power outlet, a 12 volt DC socket, and two 5 volt USB ports.
To protect you and your devices, the generator is equipped with a DC circuit breaker and safety indicator lights with auto shut-off for low oil, and AC power overloads. If anything does go wrong, there are service centres all over Australia and New Zealand, as well as a dedicated hotline for diagnostics that can help you out; all ToolPRO generators come with a 24 month warranty. If you need a sturdy, reliable generator for when you are out and about - then the ToolPRO 1100 watt, open frame generator is the perfect choice.
Click here to view our Power Usage Guide for this product
Features
Open frame 4 stroke pure sine wave generator produces 240V power suitable for sensitive devices such as TV's and laptops
Under load produces 65db@7m for quiet use at camp sites, around the home and on the job site
One 240V, two USB outlets and one 12V for a multitude to connection capabilities
3.5 Litre fuel tank capacity provides long operating periods without affecting portability
DC circuit breaker and safety indicator lights and auto shut-down for AC overload and low oil warning protect the unit from damage
Net Weight: 13kg
Recommended Products